APRIL NEWSLETTER 2014
"You IDIOT!"  ― Ren, from Ren & Stimpy
Celebrity Voice Overs Dominate the Industry
It's official.  If you thought your last voice over audition went to a celeb, you were right!  It did.  Like The Walking Dead, greedy stars are hungrily gobbling up every last commercial, corporate narration, phone prompt, and cartoon. And by every last voice-over job, we mean–ALL OF THEM! 
Come Friday the 13th of next month, rank and file talent will be systematically replaced with the likes of power players such as Julie Roberts (who currently voices Nationwide insurance), Paul Giamatti (who can be heard on Liberty Mutual), and Martin Sheen (who voices Centrum Silver, Miller Lite, Ford, Swiffer, Little Debbie, Del Monte, Land O Lakes, Efferdent, StarKist, Sears, Milky Way, JIF, and Garanimals, to name a few).  In a nutshell, if you aren't already an A-lister, kiss your voice-over career goodbye.  
According to high-powered celebrity talent agent, Bippy DiBoppy, "Oh sure they (celebrities) cost more and are impossible to book given all their ridiculous scheduling conflicts, but 'dems da rules'!"
This newly adopted industry standard will likely have your average talent secretly voicing spots for projects under celebrity names when the stars don't feel like showing up for the gig. "But don't tell anybody," says DiBoppy, "Stars have their pride, too, you know. And they're more than willing to pay you handsomely to maintain it."  ›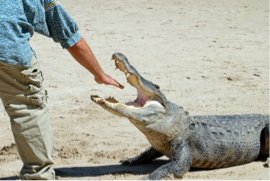 Biting the Hand That Feeds
You'd think it'd be a no-brainer that hand feeding an alligator would be a dumb idea, even if you fancied yourself an expert… maybe even especially so. Yet, sound man (and reptile enthusiast), Pete Suncliff's pet alligator bit off more than he could chew when Pete attempted to offer the mighty beast a small snack while recording growls and gurgles last week for an upcoming episode of Animal Planet's "Bags & Boots: The Sorted History of Alligators".  You'd think swallowing the boom mic, 300 feet of cable, a 20 foot pole, and a rather pricey portable recorder would have been enough to satisfy the slimy swamp dweller.  But, no, this rambunctious reptile demanded more.  The more than 850 pounder apparently wasn't appeased until he devoured a pack of gum in Pete's hand in a single gulp.  In the meantime, all of this activity was meticulously recorded for future reference, and will likely win Suncliff and his impetuous (albeit impatient) pet audio awards for recorded sound.  Of course, Pete will have to wait to cash in on his potentially award-winning recording until after the alligator passes the last salvageable bit of the recorder.  All good things come to those who wait. ›
 Dental, Dental… Damn, Damn, Damn
"Oh, darn… it'th happening… again!"
Fast-talking, yet often tongue-tied, ex-Patriot, Simon Zeeder originally moved to Holland to become a dentist, but at once found him self voicing various local radio and TV commercials.  In fact, Simon became best known for his remarkably realistic bird-calling whistle made popular on (local-Amsterdam) beer commercials. He crafted a simple dental dam device which made it possible to simulate nearly any regional bird and lures thousands of them from across the Netherlands whenever the commercials air.  From the very first airing, Simon was so besieged by crows, morning doves, pigeons and magpies, all cawing, cooing and cackling in a great cacophony of clatter as he would make his way down the city's streets. "I've more or leth made peath wit duh birdth," explained Zeeder, "It'th the molting and droppingth I find to be the real bother," claimed Simon. "Aw, damn… Look at my new thuit! How do you think the little buggerth know it'th me, do ya think?"
How indeed. Frankly, we're left wondering how a man with such a pronounced lisp could secure so much voice-over work. To heck with becoming a dentist. You could say voice over is for the birds… if you don't mind the (fowl) perks. ›
 Banana Bang Bang
Novice Mentalist, Jarvis Bates, dedicates a few hours every evening to blindly guessing inanimate objects. Admittedly Jarvis has one peculiar difficulty: blindly guessing a banana by merely holding the fruit to his temple. "It's a toothpick… no, no, a tire… I know, it's a gun! (Opens eyes.) CRAP! I'd like to think I'm getting warmer, and practice does make perfect," explains Jarvis as he peels his prop.  Certainly it takes time to become an expert in any field, and that may go double to become a truly skillful Mentalist.
"I'm gonna keep at it, because as tough as this is, it's easier than selling shoes, computer programming, being a hairstylist, or being an actor. I've tried all those. Being a Mentalist is way simpler.  And people love it!"
We applaud Bates' tenacity and hope his observational skills develop with practice.
In the meantime, we suggest he keep the bullets out of the revolver.  (He's bound to get better… right?)  ›
Ultimate Audition App
Suppose you're at work and your agent emails you a last minute voice-over audition she needs back in little more than an hour. This project is a monster, I mean it could really make your career and, of course, you want to deliver your very best. Thing is: the boss is breathing down your neck and demanding every second of your already busy day. So, how do you pull it off AND book the gig?! There's an App for that!
Introducing the Ultimate Audition APP from the Skippy Brothers. App creator, Burt Skippy, claims you'll book the job without even actually taking the time to audition. Burt claims his app will submit an audition for you that sounds… even better than YOU'LL ever sound!
According to Skippy, "Just click the app, shake your mobile device, click again… It's really very simple… Swipe… Open this browser… Click again… Breath on it… I know, I'm working on that… Click again… Then tilt, swipe and click…"
No reviews just yet on this very new, yet promising tool. If it does works–needless to say, it'll be a game changer. For sure.   ›
"In my many years I have come to a conclusion that one useless man is a shame, two is a law firm and three or more is a congress." – John Adams
APRIL FOOLS, folks!
Don't take any wooden nickels!
Copyright © 2014 by Kate McClanaghan, All Rights Reserved.