AUGUST NEWSLETTER 2014
"I do not think that there is any other quality so essential to success of any kind as the quality of perseverance. It overcomes almost everything, even nature."
– John D. Rockefeller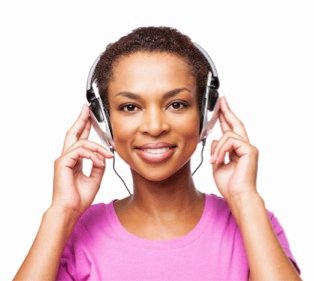 How to Build Your Cold Reading Skills
It's not very likely you'll get the copy (script) in advance of your auditions, unless you're auditioning for an on-camera role for film or TV. All the more reason to build your skills as a strong cold reader and the best way to develop those skills is to read anything and everything out loud.
It's been our experience that once you have produced your demos with us and promoted them well, it's very likely you will be booked (hired) right off of them. In fact, you may discover, as so many of our SOUND ADVICE clients do, the likelihood of getting hired directly from your tracks increases by as much as 80 percent with those who consistently promote themselves. In which case you won't have the benefit of the audition to become familiar with the copy prior to the session. Therefore, the first time you read the spot will be in front of the client while you're in the booth. The point is there's no underestimating the importance of building and maintaining effective cold reading skills.
If you're already a strong cold reader—wonderful! Then, the only caution is becoming too set in a single delivery, offering no room for discovery or play.
Regardless, you must read a cold script no fewer than six times through just to discover what the script is trying to say. The degree of difficulty will vary with each script and from project to project, but it's imperative you animate the read fully (or stretch the canvas as we call it here at SOUND ADVICE), especially during your first few reads. The object is to expand your performance playing field right from the start to offer the very best results.
Avoid giving yourself too long a runway by ramping up into your performance. This typically occurs when you (unwittingly) find yourself attempting to craft only one perfect take. The unfortunate outcome is usually a stiff and robotic read, especially after 10 takes or more. Try breaking free once you're caught in that vocal straightjacket!
Your goal as a talent is to offer a handful of honest, appropriate options within the perimeters of the project. The result will be uniquely YOU! No one can do what you do!
All the more reason to coach with us a few times a year with the committed objective of honing your performance muscle, otherwise it will atrophy.
CLICK HERE for more info on our training!
Join Us, Won't You?
It's on, folks! VOICE 2014, the Voice Over International Creative Experience—the world's premiere voiceover convention takes place in Anaheim, California from August 27th through August 30th, and YOU'RE invited! Every skill and experience level of talent benefits from this remarkable event!
Meet and greet the power players of the industry: scores of successful VO talent, coaches and talent agents. Discover the greatest advancements the industry has to offer. Improve your performance skills. Take part in scores of special events, celebrity guests and a great deal more!
To learn more and register, CLICK HERE!
Be sure to visit our booth for surprising perks, and even just to be social! It's happening!
Establishing Your Brand Identity
The primary function of a graphic artist is to create a versatile, memorable logo, known as an identity. The object is to establish you as a professional brand. Your continued promotion of this appealing brand is to entice others to listen to your demos. This means incorporating color and form, but most importantly making your name known and synonymous with voice-over. And even more specifically, to define what you do best. Your graphic should look like your demo sounds.
Our most sound advice when it comes to your graphics: Identity and branding are defined conceptually by describing what the subject represents. For instance, if the subject is fences, describe what this represents: home, ownership, pride, security, tradition. Get it?
So then, if the subject is you as a voice-over, describe yourself to your graphic artist conceptually, such as quirky, youthful, wry, approachable, contemporary. Use five to six words that best define how you are most likely to be perceived professionally as a voice-over.
Also, it's not necessarily what graphic elements you like most that count, instead it's what represents you best conceptually as a brand. When meeting with a graphic artist to design your graphics, there are a number of things you must know right from the onset.
First of all, there is NO FREE LUNCH! If a friend or relative tells you they'd "be happy to design your artwork for nothing," or for a deal, take my word for it, it's going to take a very, very long time to complete. And that's a promise. Run, don't walk, in the other direction! Why? Because you will easily add about six to eight months onto the entire project.
Here's why: Everybody's got to pay the bills, and frankly, paying jobs will get done first for just that reason. Besides, God forbid you want to make changes or modifications to the initial design that was done for you gratis. Your friend, or cousin, or brother-in-law figured he could throw a microphone over your name and a mouth and call it a day. Hiring a proper graphic artist keeps it all professional.
With the advances and availability of technology today budding graphic designers are turning up on every corner. The problem is that while you may have a friend or relative who's designing your graphics may have great taste and a keen eye for style and color, he may have trouble converting your graphic from one format to another. His technical skills may be limited. At SOUND ADVICE we've observed this issue to be the most common obstacle talent stumble over when it comes to their graphics.
As most things, if you want something done right, leave it to the professionals. Keep in mind, Web-design is done by Web designers, not graphic artists. Precious few are skilled in both areas. If we produce your demos at SOUND ADVICE, we have skillful recommendations for both.
CLICK HERE to view some great examples of exceptional graphics!
On the subject of Improv…
Legendary news anchor, Walter Cronkite once asked Dave Brubeck, "What's the goal of Improvisation?" To which Brubeck replied, "To search out and push yourself as far as possible." That was 1964. Here it is 50 years later… He said, "Rhythm is the true international language. After all, your mother's heartbeat is the first sound you ever hear. And your own heartbeat—is the last." 
Copyright © 2014 by Kate McClanaghan, All Rights Reserved.