December Newsletter 2014
"Christmas is not a time nor a season, but a state of mind. To cherish peace and goodwill, to be plenteous in mercy, is to have the real spirit of Christmas."                                                                              —Calvin Coolidge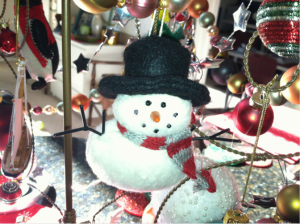 Let There Be Light
Here's a little food for thought: it took Thomas Edison more than 10,000 attempts to create the first working light bulb. What kept him going was the singular intent on accomplishing his goal and this against all odds and naysayers, of which he had more than his share. While Edison's first bulb might have been, especially by today's standards, less than perfect, it yielded less than 10 watts and lasted less than only a few short hours, had he not persevered—the world today would be a far darker place.
So goes the tale of tenacity and perseverance.
Certainly when we coach, counsel and produce your demo tracks at SOUND ADVICE we aren't offering any promises that you will succeed. Regardless of our best advice, guidance and any opportunities we can offer you, it's ultimately up to you to continue. It's up to you to supply the tenacity. Without that crucial element, nothing can be accomplished. You won't continue to develop as a talent. You won't make yourself or your brand familiar and known. Without tenacity, you'll never know what you could have achieved as a working talent.
And yet with it, the world is forever changed! ›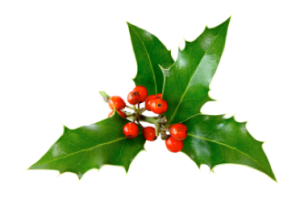 From the film, A CHRISTMAS STORY… Ralphie (as Adult): "Next to me in the blackness lay my oiled blue steel beauty. The greatest Christmas gift I had ever received, or would ever receive. Gradually, I drifted off to sleep, pranging ducks on the wing and getting off spectacular hip shots."
How to Build Your Cold Reading Skills
It's not very likely you'll get the copy (script) in advance of your auditions, unless you're auditioning for an on-camera role for film or TV. All the more reason to build your skills as a strong cold reader and the best way to develop those skills is to read anything and everything out loud.
It's been our experience that once you have produced your demos with us and promoted them well, it's very likely you will be booked (hired) right off of them. In fact, you may discover, as so many of our SOUND ADVICE clients do, the likelihood of getting hired directly from your tracks increases by as much as 80 percent with those who consistently promote themselves. In which case you won't have the benefit of the audition to become familiar with the copy prior to the session. Therefore, the first time you read the spot will be in front of the client while you're in the booth. The point is there's no underestimating the importance of building and maintaining effective cold reading skills.
If you're already a strong cold reader—wonderful! Then, the only caution is becoming too set in a single delivery, offering no room for discovery or play.
Regardless, you must read a cold script no fewer than six times through just to discover what the script is trying to say. The degree of difficulty will vary with each script and from project to project, but it's imperative you animate the read fully (or stretch the canvas as we call it here at SOUND ADVICE), especially during your first few reads. The object is to expand your performance playing field right from the start to offer the very best results.
Avoid giving yourself too long a runway by ramping up into your performance. This can occur when you unwittingly find yourself attempting to craft only one perfect take. The unfortunate effect is often stiff and robotic after 10 or more takes, which can be extremely difficult to break free from.
Your goal as a talent is to offer a handful of honest, appropriate options within the perimeters of the project. The result will be uniquely YOU!
All the more reason to schedule coaching with us a few times a year to hone your performance muscle, otherwise these skills will atrophy. Even if that coaching is done via Skype, it's your responsibility to maintain and sharpen your performance skills.
Click here for more info: http://voiceoverinfo.com/services/coaching ›
"On a busy day twenty-two thousand people come to visit Santa, and I was told that it is an elf's lot to remain merry in the face of torment and adversity. I promised to keep that in mind."  ― David Sedaris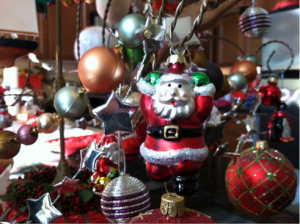 What's Required on Your VO (Only) Web Page
Q: Do I just put the image (my name as a logo) and an MP3 of the voiceover demo on the web site…and the contact info… and that is it? Also, should we list the one agent I've got out of state?
A: Do NOT list (Out-of-State Talent Agent) on this site… we also want local agents and, ideally, another agent from yet another region as well! Listing contact information for four or five talent agents from across the country would only serve to confuse the issue. Put your own cell number. Employ a Google number, if you like. They are free and forward directly to your cell. This way should your public number ever become compromised in any way, you won't have to go to the trouble of replacing your existing cell number. You simply replace the Google number instead.
As for the agents, understandably they don't like to compete with each other and like to think of themselves as the only one.  They understand voice talent are often multi-listed—they just don't like to be reminded of it.  Besides, it confuses matters for potential producers/clients who may opt to book you directly—allowing you the opportunity to field the work to the appropriate talent agent determined by region, the expertise of the agent (Commercial, Narrative, non-union, etc), or what ever the case may be for the given project.  All of this is detailed in the book under the Web Site chapter. http://voiceoverinfo.com/shop/encyclopedia-of-voice-over/
Now, who are you using to create your graphic and your web site?
Please tell me they are two distinctly DIFFERENT sources.  Typically, graphic artists DO NOT successfully do web design, and Web Designers, by and large, DO NOT successfully create effective graphics.  (Regardless of what either might tell you!) This is likely to be a LONG, drawn-out, over-priced, under-served project if you find yourself in this position. I've only seen this work out ONCE in the thousands of situations we have encountered. Once. Which is precisely why we recommend our trusted, experienced vendors. They know the drill when it comes to voice-overs. And, in most cases, you'll have yours completed within 2-3 weeks, from start to finish. Our mission is to save you time, trouble, added expense, and unforeseen issues, of which there can (and will) be many.
This is also why I wrote these two chapters into the book, a chapter dedicated Graphics and a chapter dedicated to Websites. They are wholly different worlds and areas of expertise. ›
Procrastinate Tomorrow
Promoting yourself to the creatives does NOT require you first have the representation of a talent agent. So never let that stop you.
The whole point of promotion is to make yourself known, drive traffic to your Web site (and therefore your demos), establish yourself as a brand through your logo, and to associate your name as a professional voice-over.
Through proper promotion, you're creating a presence and establishing yourself as a brand. Keep it clean, smart and professional. And KEEP promoting. It takes no less than seven repeated promotions to make yourself known: out of sight, out of mind.
So, once you have all your materials printed, hosted, posted, and prepped get them OUT there—NEVER wait to promote. Until you're well-known enough to require a publicist, this remains your job. So, procrastinate tomorrow. Promote today. ›
Our Warmest Wish For You…
From all of us at SOUND ADVICE, we wish you dreams fulfilled and hearts brimming with good cheer! We look forward to assisting you propel your career forward in the coming year. In the meantime, enjoy the very best the season! Here's to even better days ahead in the coming year! ›
Copyright © 2014 by Kate McClanaghan, Inc. All Rights Reserved.