July 2015
"What light is to the eyes – what air is to the lungs – what love is to the heart, liberty is to the soul of man." – Robert Green Ingersoll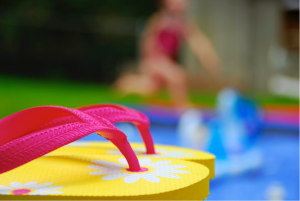 How To Make The Most Out Of Your Summer
What do you hope to accomplish this summer? Time well spent with your family and some well-deserved time off likely tops the list.
As far as your voice over career plans go, it's worth mentioning once again that summer is one of the best times to secure representation. All the more reason to continue to build and maintain your vocal agility, should an agent show interest in you and your mettle be tested at a moments notice.
Call to schedule a couple good tune-up sessions with us. Focus on cold-read, sharpening your diction and articulation, applying our exclusive self-direction process and techniques. With Skype, your commute is as close as your computer. You can still hit the beach afterward and accomplish something to make the most of your summer! œ
Voice Acting & Determining Your Type
Acting is a card game: The objective is to always lead with trump; lead with POWER. In other words, establish yourself in each game with what you do best.
Sounds easy enough. However, the ability to determine how you're perceived on your own, especially in a mass medium such as a national TV commercial speaks to type.
It's not uncommon, even if you've been pursuing a performance career for a number of years, to only stumble upon the work you're best suited to land as a type. Intellectualizing and then ultimately accepting your type to avail yourself to the most profitable work is often an elusive effort. After all, your type may change or fall out of favor with current trends, at which point a complete reevaluation of who you are and how you're perceived would be necessary should you hope to continue. This occurs in every business; and determines whether they flourish or fail.
Nothing stays the same, and type is no exception. You may grow in (or out) of a type. Age alone will see to that. If you had been relatively successful at one time and now you're not, clearly something changed. There are a handful of factors that could be at play, and determining how you're perceived right now is a very good place to start.
For instance, you could be extremely marketable for commercial work, but might not see yourself the same as potential employers or producers might, which would curtail some of your greatest career opportunities.
This happens most often with stage actors; for them accepting commercial work would be an act of treason and considered "selling out", rather than an opportunity to earn an honest living and realize their dreams. Another trap stage actors face is mistakenly believing that acting for voice over demands wholly different skill sets compared to stage, film, or TV. This is a common misconception that's even promoted by normally very reliable sources. Certainly there are a handful of technical demands required of every medium, but beyond that, at SOUND ADVICE we maintain acting is acting is acting. These two common misconceptions ultimately prove counter-productive and counter-intuitive should you hope to have a career in this business. (It might even explain why there are so many "one-hit wonders" in voice over!)
In the meantime, those with a radio background tend to consider voice over to be the same field as broadcast, and often attempt to apply the same disciplines. In fact, voice over requires wholly different demands, expectations, and skills. You're always expected to be a voice actor, even if you have no prior acting experience.
No wonder voice over has remained elusive for so many talent for so long. Any of these mindsets could easily be attributed for impeding perfectly capable talent from establishing themselves professionally and making a stable living. There are always stigmas to overcome, regardless of experience level or type. This is precisely why we deliver only custom-tailored training. We're confident we can assist any talent in elevating their situation and realizing their dreams in this field.
To discover more about your type and our training, schedule a one-on-on-one Orientation/Career re-Boot session for yourself. ›
How To Art Direct Your Voice Over Graphics
It's imperative when presenting yourself as a professional voice talent that you have a complete professional package. This means having an effective logo to help forward your name as a brand.
You need to think like an advertiser. For instance, no one wants to see what you look like as a voiceover—they want to imagine what you look like. However, creating an effective logo to define you, your demos, and your brand can be a daunting task, especially without previous experience. Over the years, I've observed there are generally two camps when it comes to novice art direction on demo graphics: those who fret because they don't know what to tell their graphic artist to do, and those who know exactly what they want. In either case, we're here to offer some sage advice on how to get the most out of your graphics experience.
First, you need to consider your target audience: advertising creative (namely producers, their assistants, copywriters and creative directors). You have to consider what appeals to them. You want your identity to appeal to their aesthetic sensibilities if you want your demos to be heard. Great design is the air they breathe.
Your logo needs to make your name known and associate you with voice-over in the most appealing way possible.
Given that, you need to avoid the obvious, such as including mouths and microphones circa 1940 to 1950 on your graphics. It's poor advertising, it's been done to death, and it doesn't say a thing about you and what you bring to the table as a talent.
Other obvious items that can and should be avoided:
If your name is Rhodes, please don't include a literal road in your graphic.
Avoid symbols that mean something only to you and no one else.
Avoid catchphrases, if your last name is Peele, "a voice with a Peele!" is as obvious as it gets. Once again, this tells me nothing about you, except that you're rather hokey and old school.
Graphics like these can sandbag perfectly remarkable demos.
Don't think graphics matter much? Consider this: Would you buy anything that seemed unappealing or just plain old and tired when shopping in a grocery store? When it comes to your voice-over demos, you're bringing the store to them. We want them to walk in; your graphic should give them a reason to do just that. ›
Self-Direction & Mastering Auditioning from Home
You rarely get the opportunity to see another talent audition for voice-over, especially if you're auditioning from your home set up.  This may pose a bit of an issue on a variety of fronts:
Your performance may suffer as so many talent find themselves offering a repetitive delivery out of sheer habit.
There's a definite learning curve to mastering recording and editing your auditions.
Your performance demands you develop the ability to self-direct and challenge yourself to vary up your read. Your performance must suit the appropriate script rather than simply suit yourself.  This can be especially demanding when you have a handful of auditions to crank out quickly to return to your agents. Building your self-direction skills and challenging your comfort zone is the basis for all of our coaching. Our objective is to build your most dynamic, most agile performance skills. This can only be achieved through continual exposure and practice.
Considering a majority of all voice-over auditions are recorded from home, it's also imperative you develop the basic skills to record and edit.  None of this is immediately intuitive. When you first begin recording your auditions from home you'll likely give yourself too long a runway. You'll do 40 takes, then submit take 8 when all is said and done.
We suggest a service designed to help develop your technical mojo we offer exclusively here at SOUND ADVICE we call Practice Auditions. The idea is to develop quick turnaround while mastering your home-recording and editing skills. Over the course of an eight week period, you're e-mailed faux auditions with fictitious deadlines. You record and edit these practice auditions from home, and then e-mail back to our engineer, just as you would for actual voice-over auditions. You'll become familiar with turning around numerous auditions quickly and receive feedback on your edits and recording. Our engineer will offer you technical corrections ONLY, not on your performance.
Practice Auditions allow you to make common mistakes in a setting where you can learn from them, so you avoid making them with your new talent agents and potential clients. This service affords you the opportunity to develop your home recording skills so you can deliver auditions with confidence.  Like all of our training and production here at SOUND ADVICE, it's exclusively ours and it's remarkably invaluable. œ
Copyright © 2015 by Kate McClanaghan, Inc. All Rights Reserved.