November 2015 Newsletter
"Silent gratitude isn't much use to any one."  – G.B. Stern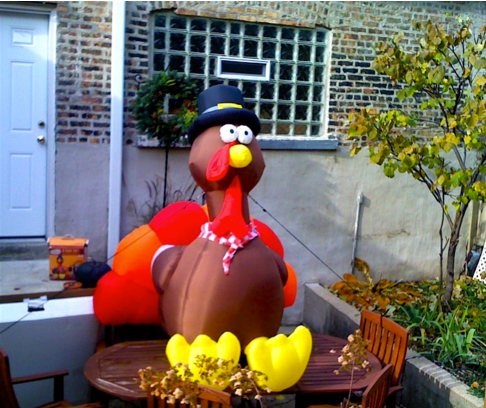 What To Do Once You Have Your Voiceover Demos
Once you have you're fully trained, and your demo's produced, and you're pursuing representation with talent agents far and near, and you subscribe to at least one of the Pay-to-Play (P2P) sites, you are likely to face a conundrum such as this…
S.S. emailed: Hey, Kate! When I got my demos you wrote: "Let them know you have access to ISDN, SourceConnect, phone patch, Skype & SourceConnect Now.  Because you do! Should you book a job and they require you have these items, you can either enlist our services or we'll refer you to a studio you can trust." 
Skype I can obviously handle!  
Phone patch – I hear conflicting stories. Some people advocate using a cell phone while you are recording so you can hear direction and they can hear you. I suspect you are talking something different. 
If I needed to enlist your services for the other types of connections, how would that work? And how much would it cost? I ask because that cost would need to be built into my estimates. 
Kate emailed back: There's an option with SKYPE that allows you to create a contact phone number. It's FREE. You give that number to your corporate/production clients to phone in to. THAT becomes your phone patch number. Very simple. Using your cell in addition to recording your session adds an additional step you don't need. (WHILE concentrating on your performance is distracting, clunky and awkward. I wouldn't recommend it. I rather you not become a circus act. Besides do you really want calls coming in on your cell while you're mid-session?
You would have to include these costs into your estimate–IF the client honestly wants you to do all this.
If the client simply needs to patch (ISDN or Source Connect) with you and has a studio on their end, then, yes, you'd hire us or a studio we'd recommend. This is if the client needed to patch from their studio to you directly.  We tracked your demo using SourceConnect Now. We would invite the client in to the session as we did you when we recorded your tracks, and deliver the product directly, rather than uploading all the uncompressed audio files to their Cloud or DropBox after the session, etc. Adding a lot of time and possible uploading and downloading issues to the equation.
If we produced your demos we offer a talent rate $75 per half hour. That's only if you have to pay for the studio, rather than the client. Our standard commercial rate, what we'd charge the client, generally runs 3x more.
If a client needs full production (recording, mixing & editing, etc.)–refer them to us…this is written in your materials as well, it's just that you are only now being faced with it.
I don't recommend you offer production services. You're not getting paid enough as a voice talent to INCLUDE production services in your rate and it degrades your value and the value of every voice talent out there. Because that would make you a producer–which you are NOT. There's a whole slew of responsibilities connected being a producer that you're not experienced or trained to deliver. Make this your mantra: UNDER PROMISE, Over deliver. Your mission, lest we forget, is to get hired as a voice talent.
This is the massive trap I'm advising you to side-step.
That said, should a client require production services… this is what I've recommend you tell them (from your Orientation materials "How To Eliminate Tech Anxiety for Voice Actors"):
Potential Client: Do you have your own studio? 
YOU: I have a home recording set up for auditions, and two studios I work with professionally, which offer ISDN, Source Connect, phone patch, etc. should we need it.
Depending on the project, the work load, and provided my home set up meets your project's audio standards, I have the ability to record from home and upload the uncompressed audio to your Dropbox.  We can patch through Skype on these occasions if need be.
Potential Client: Can you provide fully produced work if requested? 
YOU: No, I can refer you to the studios I work with as I mentioned.  They offer those services at extremely affordable rates.
Potential Client: What is your turn around time? 
YOU: Again, this has to be determined on a case-by-case basis, however I can usually turn most projects around inside 24-48 hours.  It would really depend on the project and the specific demands.  
If you follow this, you won't have to unnecessarily include additional costs into your estimate. And rest easy. Leave it to the professionals.
Good Advice POST Demo Production
After coaching and producing her demo, S.P. started he first promotion to the Creatives.
Here's what she wrote: "Thanks for clarifying my question on my promotion. (I'm) auditioning on average of about 4 a day and nothing but still sending this all out every other week to see what happens. Too invested now:)" 
Kate emailed: Keep in mind you're only just getting started…
Keep listening to your initial coaching sessions to remind yourself what you're trying to accomplish with each audition and each take. They are especially helpful at this stage for you!
Feeling Better!
R.R. wrote: I used your flu bomb when I felt a flu coming on.  And I was just in time. Soon after feeling bad, I landed about $2200 of e-learning and commercial work.  I keep your book on my phone's Kindle app, looked up your special brew, and made a quick trip to the pharmacy. Worked like a charm. Thanks for tip.  Peace to all of you @ SA. 
Kate: NICE! Now you're talkin'!
To stay healthy all season long, or at least keep that cough at bay during your next session, my "flu bomb", as I call it, is as follows:
If you find yourself coming down with something, try this: in a single 12 – 16 ounce glass, empty a raspberry (my personal preference) Emergen-C and an orange Airborne. Add water, either hot or cold. Allow the ingredients to completely dissolve, then drink the entire contents.  It tastes great and, if you caught the illness within the first 48 hours of your initial symptoms.
Then follow with one flu bomb in the morning and one before bedtime for 2 to 3 days, followed by one a day for the remainder of the week—EVEN if you "feel fine". It's likely you'll completely avert coming down with a full-blown cold or flu. Either that, or the duration of whatever is trying to take over will run its course a whole lot quicker than ever.
For added help that has no parallel, Quantum makes a terrific product called Thera Zinc Spray with Echinacea and Elderberry. Be sure to havethese items on hand in the event you wake up with a cough or your feel the dreaded cold coming on the morning you have a gig (just to add to your drama). At the first sign of a cough, chest cold or runny nose, zinc works wonders, and this product is the best I've found, without question. It's incredible!
Regarding Feedback 
Another email: "I have a bit of forward progress to report…I got a 'Liked' on one of my P2P auditions! Yea, I know, that doesn't mean that much, but it's still a forward step!" 
Kate emailed back: Getting "LIKED" does matter! It's there for encouragement.
As you know, I'm not a huge fan of the "How did I do?" element that voice actor's demand today, and why the P2P sites include this feature. (I call it the YELP feature, which frankly can be hugely deceiving.)  Concerning yourself too much with this rating can stick your attention in the past rather than on continuing to make your next audition/performance even better. That should be your primary focus. As a union talent, we don't get any of that. Never did. We only hear if we book it! The focus is on what I'm doing right now, and what can I do even better as I proceed.
Nevertheless, it is very encouraging and a very nice acknowledgement you're on the right track!  And for that–well done!
Thank Goodness
Okay, it may seem a bit early in the season to mention it, but one of the things I love best about this time of year is my favorite holiday is upon us once again: Thanksgiving. It makes us all stop and appreciate family, food, warmth, color, and memories of those that have touch our lives over the past year that add so much to making life worthwhile.
You're what I'm thankful for.  So, thank you.  I'm so pleased to have you in my life!
Wishing you and yours…peace, love, great success and plenty of it.
Copyright © 2015 by Kate McClanaghan, Inc. All Rights Reserved.