SOUND ADVICE December 2012 Newsletter
"Christmas waves a magic wand over this world, and behold, everything is softer and more beautiful."  —Norman Vincent Peale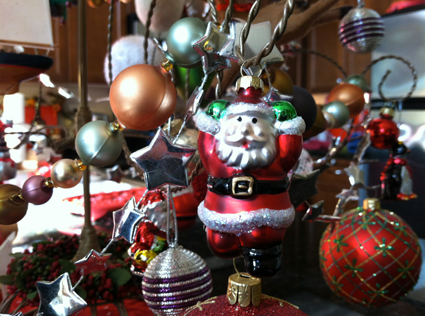 "Be of good cheer. Do not think of today's failures, but of the success that may come tomorrow. You have set yourselves a difficult task, but you will succeed if you persevere; and you will find a joy in overcoming obstacles. Remember, no effort that we make to attain something beautiful is ever lost."  ―Helen Keller
"Christmas is not a time nor a season, but a state of mind. To cherish peace and goodwill, to be plenteous in mercy, is to have the real spirit of Christmas." —Calvin Coolidge
Your "Part-time" Job
You'll often hear from seasoned industry professionals, "You have to do your homework." So what does that mean? It means you must dedicate NO LESS than 10 hours a week toward developing and maintaining your performance skills, and 10 hours a week toward ACTUAL promotion if you hope to succeed in this industry. This is what would amount to part-time for any other profession.
You'll quickly discover better than 90 percent of your job as a professional talent is promotion, yet the mere fact you have wonderful demos and a fabulous brand logo and Web site is only a fraction of the promotional pie. Granted, these components make up a very important fraction, but if they lie in obscurity and anonymity…so will YOU! They were created for YOU to promote them. So, MAKE YOURSELF KNOWN AND AVAILABLE! This is your responsibility alone, regardless of what anyone tells you. This is YOUR career. You have to run it.
That means don't kid yourself into thinking you can rely solely on auditions to secure work, especially from only one or two small- to medium-level talent agencies. It's simply not enough if you hope to generate steady employment.  
"Laughter is the sun that drives winter from the human face." ― Victor Hugo
One of the Best Months to Get an Agent 
Here at SOUND ADVICE, we've long recommended you pursue representation especially during July and August and between Thanksgiving and New Year's for the simple fact that talent agents often reassess their talent pool during these times and are often more receptive to scheduling meetings with you. Great!
And while we no longer offer lists of national voice-over talent agents, we do recommend you create your own, drawing from those talent agents listed on the premiere voice-over site on the Internet, Voicebank.net. 
Simply click on Voice Over Demos & Clients on the home page. Under Select a Category, Talent Agency (Union) will be highlighted first. Sort these agents by City. Beyond your local region, be sure to include agents from a variety of markets across the country as well. Select Talent Agency (Non-Union) as well, if this category applies to you, and include many of these agents in your promotions as well. 
It's your responsibility to study which of these talent agency suits you best by learning what you can from their Web sites and the talent they represent prior to promoting yourself to them. For example, if they specialize in young adults and kids, and this category doesn't apply to you, there would be no sense promoting yourself to that agency. Move on! 
Every agency has its own submission policies. Following them on an individual basis will prove advantageous, as it will show you can follow basic directions. Ignoring their submission requests will serve only to frustrate you both.
All in all, you should continue promoting yourself to the talent agents by following the 8-consecutive-week process outlined in detail in our newly updated The SOUND ADVICE Encyclopedia of Voice-over & The Business of Being a Working Talent. Follow this process thoroughly until you've secured talent agents in two to three different regions. This is the single most successful process you can follow to secure an agent and will likely lead to the greatest onslaught of work you have ever experienced!
 "I've learned that no matter what happens, or how bad it seems today, life does go on, and it will be better tomorrow. I've learned that you can tell a lot about a person by the way he/she handles these three things: a rainy day, lost luggage, and tangled Christmas tree lights. I've learned that regardless of your relationship with your parents, you'll miss them when they're gone from your life. I've learned that making a "living" is not the same thing as making a "life." I've learned that life sometimes gives you a second chance. I've learned that you shouldn't go through life with a catcher's mitt on both hands; you need to be able to throw something back. I've learned that whenever I decide something with an open heart, I usually make the right decision. I've learned that even when I have pains, I don't have to be one. I've learned that every day you should reach out and touch someone. People love a warm hug, or just a friendly pat on the back. I've learned that I still have a lot to learn. I've learned that people will forget what you said, people will forget what you did, but people will never forget how you made them feel." ―Maya Angelou
Gifts of Great Joy
Since there really is no point in having a voice-over demo if no one knows you have one, we're offering the biggest savings on our exclusive promotional mailing lists for the month of December ONLY! Save 15 percent on every mailing list you purchase with this month's special. Each list offers a direct connection to hundreds of your target audience. We hope they get your career started in earnest, help you continue, or reignite your career in a way you have not yet seen. In any case, we hope they bring you great joy! CLICK HERE for more details and to order mailing lists for yourself! 
"Happy, happy Christmas, that can win us back to the delusions of our childhood days, recall to the old man the pleasures of his youth, and transport the traveler back to his own fireside and quiet home!"  —Charles Dickens