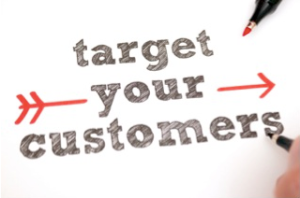 Ah, technology.  Who knew the future would arrive so soon and bring with it the very thing every professional marketer has dreamed of since watching "The Jetsons" on Saturday mornings as a kid. They're called QR Codes, short for 'Quick Response' Codes, and it's very likely you've seen them included in ads in magazines and on posters as you walk through the airport over the past year or so.  
QR Codes can be scanned with a simple APP from any smart phone or iPad.  They can be created to lead you directly to your voice-over web site.  That link to your site will then be "bookmarked" on the mobile device of the individual who scanned it until its removed at a later date. 
But wait, the plot thickens! Considering all Creatives rely more on their mobile device than on their laptops (as any self-respecting business person would) it stands to reason you now can promote and communicate with them on these terms to greater effect than ever before.  
According to industry data, Ad Agency Creatives (your targeted audience and potential clients) are far more likely to be receptive to scanning your QR Code off your promotional postcard than if you were to directly send them an email with a link to your site! In fact, stats show less than 8% of emailed site links are ever accessed.  And yet greater than 80% of all sites scanned via QR Codes are not only accessed,  but they are accessed repeatedly—up to 10 times during the four weeks that follow first scanning the QR Code.  Now, that's a dramatic promotional improvement!
It's also worth noting: the average QR Code is generally kept on the mobile device for up to three months… just in time for your next postcard mailing to that region!  How opportune! After all, out of sight, out of mind.
Suffice it to say, by adding a QR Code to the back of your promotional postcards offers you a far greater advantage to being heard than ever before and by your targeted audience.  What could be better?  They turn your postcard into an interactive promotional tool!  (Provided your web site wasn't designed solely in FLASH, as Flash will never be read on iPhones and iPads, and therefore those sites will not be able to be seen on these devices.) Besides QR Codes are free to create (however, unless you rather tech-savvy, we recommend you leave this to the experts!), and QR Readers (the APP used to scan them) are free to download as well. 
So, given all of this, the value of direct mailing your promotional postcards has just increased by at least 80% over any other time in the history of promotion.  Making your future far more optimistic.  So, seize the day already!
Your Demo Web Site & the QR Code
At SOUND ADVICE, we recommend you enlist Ron Martin of Ron Martin Web Design  to design your web site.  He'll set up your domain name, establish your hosting (which are two separate and distinct actions, mind you and should be done simultaneously.) And when Ron does we suggest you have him create your QR Code for you at the same time.  
We can't stress the importance of employing Ron to design your site due to the fact that should your site be designed by your friend or neighbor or your 14 year old ("IT-genius") nephew… it will likely be created almost entirely in 'FLASH'.  In which case, your site will not be seen on mobile devices, especially iPhones or iPads!  In fact, Apple has made it a point to NEVER support this form of web design, which has been a common tool in web design over the years.  
And if your site can't be seen on mobile devices due to the fact your site was designed solely in FLASH—well, your most-sought after target market won't be able to view your demo web site on their mobile devices, even if they DO scan your QR Code that takes them directly to your site.  And all your best efforts will be for naught. And we can't have that, right?!  Ron Martin is also a wonderful option with which to update your current site, should you need it.  He's reliable, affordable and FAST!  Perfect!
After that, if you still have a massive stockpile of promotional postcards collecting dust in your attic, have your QR Code made, get a small (3/4" x 3/4" square) label to add to the back of your current postcards and you're back in business! 
No time like the present. 
I've said it before and I'll say it again, there's never been a better time to promote than right now!  So, get going!  I've given you the keys to the Kingdom.  Try not to lose them in the couch. 
Copyright © 2012 by Kate McClanaghan, Inc. All Rights Reserved