Voice Over Training
Our SOUND ADVICE Services Advance your career faster, smarter, and better than ever before with the very best voice-over training, career guidance, and demo production in the business. SOUND ADVICE is where the best voice-overs get their start and established talent sharpen their tools of the trade, because we custom-tailor every coaching, … Read More
The SOUND ADVICE Encyclopedia of Voice Over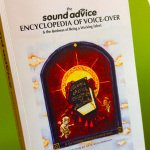 SOUND ADVICE is the gold standard in voice-over. So much so, we wrote the book on it! Presenting the THIRD EDITION of The SOUND ADVICE Encyclopedia of Voice-Over & the Business of Being a Working Talent, the single most current, most thorough industry reference available anywhere! We're the gold standard in voice-over! So much so, we wrote the book on it! More than 500 pages … Read More
How to Get a Talent Agent! Webinar – Feb 21, 2018
You do but not in multiple markets?
Discover how to increase your opportunities & booking rate!
Includes Q&A with top Talent Agents:
MARK MEASURES; KMR Talent LA
DEAN PANERO; Abrams Artists LA
SUZANNE SPAZIANI; A Special Project, Asheville NC
---
BLOG: How to Study Commercials & Television To Improve Your Auditions
You have to study the medium you intend to work in. You must feed your imagination, and in doing so, feed your read. Lucky for us, today we're able to view and study television, voiceover, film, and commercial work with greater ease than ever and from almost anywhere. You … Read More
Testimonials
Kate, you truly have a special gift, not just for voiceover work and coaching, but in empowering others to succeed. I can't tell you how much I appreciate that and the work that both you and Jeff put into me that has allowed me to make a living at this job. I've had all kinds of work…and I'm making some great connections. (Just last week I landed a big corporate job …via a Skype phone patch.) I'll be in touch as I keep climbing this ladder of success!