The SOUND ADVICE Encyclopedia of Voice Over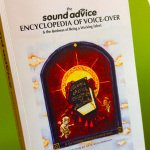 SOUND ADVICE is the gold standard in voice-over.
So much so, we wrote the book on it!
Available in our Shop 

Voice Over Training
Our SOUND ADVICE Services Advance your career faster, smarter, and better than ever before with the very best voice-over training, career guidance, and demo production in the business. SOUND ADVICE is where the best voice-overs get their start and established talent sharpen their tools of the trade, because we custom-tailor every coaching, … Read More
We can work with you no matter where you live!
Subscribe to our FREE
SOUND ADVICE VO Podcast
SOUND ADVICE Halloween PODCAST: "The Silent Towns" adapted from Ray Bradbury's "The Martian Chronicles"

Testimonials
Now that I've had my demo for over a week, and listened to it countless times, I wanted to say thank you again. Every time I listen to it I get a smile on my face. The whole process from beginning to end was enjoyable. The coaching that Jeff provided was invaluable and exactly what I needed. I felt like he was also pacing our time together to meet me where my skill set was, not just delivering cookie cutter coaching. It was an easy decision to move into demo production with you guys. For the demo, I loved the diversity in copy that you selected as it really showcased what my voice strengths are. And throughout the process Jeff gave excellent direction while keeping a relaxed atmosphere and making sure we got exactly what we needed to make a great demo. And the power duo of Jeff and Travis kept me laughing the whole way through. I feel really fortunate that I found Sound Advice and would recommend you to anyone looking for coaching, career guidance or demo production.