Voice Over Training
Our SOUND ADVICE Services Advance your career faster, smarter, and better than ever before with the very best voice-over training, career guidance, and demo production in the business. SOUND ADVICE is where the best voice-overs get their start and established talent sharpen their tools of the trade, because we custom-tailor every coaching, … Read More
The SOUND ADVICE Encyclopedia of Voice Over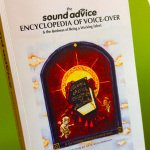 SOUND ADVICE is the gold standard in voice-over. So much so, we wrote the book on it! Presenting the THIRD EDITION of The SOUND ADVICE Encyclopedia of Voice-Over & the Business of Being a Working Talent, the single most current, most thorough industry reference available anywhere! We're the gold standard in voice-over! So much so, we wrote the book on it! More than 500 pages … Read More
Join Us LIVE for our next Webinar
"How to SUCCESSFULLY Art Direct Your
Voiceover Branding & Graphics"
November 14th, 2018
7pm - 8:30pm ET/ 4pm - 5:30pm PT
Presentation matters.
Given the importance of social media and establishing a digital presence has on your professional reputation, mastering it has never been as crucial as it is today.
Effective branding, much like successful performances, is as intrinsic to you as your personality. Yet, it's one of the single-most elusive obstacles in the industry: the ability to successfully art direct your logo/branding.
Many attempt it. Few honestly succeed.
Click to Learn More!
BLOG: How to Study Commercials & Television To Improve Your Auditions
You have to study the medium you intend to work in to feed your imagination, and therefore your read. Lucky for us, today we're able to view and study television, voiceover, film, and commercial work with greater ease than ever and from almost anywhere. You could rent a … Read More
Testimonials
I want to say your instruction from start to infinity is superb.  When I say infinity I mean even after 4 years you are still there for me when I have a question and still learning from you.  I decided to train with you guys even though I am in New York…just thought Sound Advice had the most thorough training that I researched…from studio etiquette to how to break down the copy.  So I flew from NY to Chicago to train and record my demo.  It has paid off in spades.  I followed your "how to get an agent" and got a NYC union agent in less then 3 minutes!  True story!  Since that time I have become a member of SAG and have booked jobs with Microsoft, American Express, Verizon Fios, Luxaire, Bank Midwest among others!  It has been a whirlwind 4 years but have you to thank…just about everything you say does happen and does work in the VO world.  Trust me it's not easy and a lot of hard work has gone into this…but so worth it…so once again many thanks!