The SOUND ADVICE Encyclopedia of Voice Over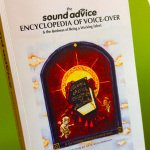 SOUND ADVICE is the gold standard in voice-over.
So much so, we wrote the book on it!
Available in our Shop 

Voice Over Training
Our SOUND ADVICE Services Advance your career faster, smarter, and better than ever before with the very best voice-over training, career guidance, and demo production in the business. SOUND ADVICE is where the best voice-overs get their start and established talent sharpen their tools of the trade, because we custom-tailor every coaching, … Read More
We can work with you no matter where you live!
Subscribe to our FREE
SOUND ADVICE VO Podcast
SOUND ADVICE Halloween PODCAST: "The Silent Towns" adapted from Ray Bradbury's "The Martian Chronicles"

Testimonials
I am new to voice over.  The coaching I received from Kate was second to none.  I have more knowledge in this industry than my peers who have been in voice over class after voice over class and still don't have representation or a valid demo. Working with Kate has been like being on a rocket ship.  You quickly get hatted and have the confidence to take this industry by storm. She produced my demo and I literally cried because it sounded SO GOOD!  I have had agents all over the country remark on how amazing my demo is.  I got representation after merely emailing my mp3  one week after receiving my demo with a prominent agency in the mid west.  I am still talking with several other agencies. Don't waste your time with anyone else.  She guides you step by step.  I have never received so much care.  Everything is tailored to showing off the best possible you!  If you'd like to hear and see what she has created for me, go to  http://kerrykimblevo.com/. Good luck!