Voice Over Training
Our SOUND ADVICE Services Advance your career faster, smarter, and better than ever before with the very best voice-over training, career guidance, and demo production in the business. SOUND ADVICE is where the best voice-overs get their start and established talent sharpen their tools of the trade, because we custom-tailor every coaching, … Read More
The SOUND ADVICE Encyclopedia of Voice Over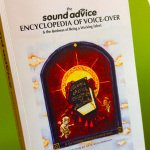 SOUND ADVICE is the gold standard in voice-over. So much so, we wrote the book on it! Presenting the THIRD EDITION of The SOUND ADVICE Encyclopedia of Voice-Over & the Business of Being a Working Talent, the single most current, most thorough industry reference available anywhere! We're the gold standard in voice-over! So much so, we wrote the book on it! More than 500 pages … Read More
JOIN US for our next LIVE Webinar:
'How to Create Original Character Voices for Animation & Games'
September 26th, 2018
7pm - 8:30pm ET/ 4pm - 5:30pm PT
Let's face it no one becomes a voice actor because they want to play themselves. Generally speaking we become actors because like being, or at least playing someone else!
Even if creating character voices isn't your forte (yet), there's so much to benefit from developing and playing with original voices.
Click to Learn More!
BLOG: How to Study Commercials & Television To Improve Your Auditions
You have to study the medium you intend to work in to feed your imagination, and therefore your read. Lucky for us, today we're able to view and study television, voiceover, film, and commercial work with greater ease than ever and from almost anywhere. You could rent a … Read More
Testimonials
I've always dreamed of being a voice over actor and when I starting really planning for it, I found Kate's website, listened to her own VO demos (she is really, really, good!) and bought her book The Sound Advice Encyclopedia of Voice-Over. I began my coaching sessions with Kate, which really gave me enormous insight into what I needed to know. She and her team team were super-professionals and its clear they know the business very well as they are voice talents themselves. I had two demos built with her and they are really excellent! I have had comments about the quality from producers who hire voice over talent and I know I made a great decision. Kate will push you hard to get a good demo, because she is a casting director herself and knows what she need to hear. I'm starting to get a lot of auditions coming my way, and I am getting better all the time. I have all the recorded sessions with Kate and her book to give me the foundation and skills sharpening to move on in my VO career. Thanks Kate!