Our mission is to deliver the most skillful voice actor training and career guidance, while producing the most competitive voice over demos available. 
To our supportive VO family and valued potential students/clients:
In an effort to err on the side of caution, we'll be delivering ALL of our services via ZOOM or SourceConnect for the time being until the COVID-19 threat has fully subsided.
While this may be a relatively new approach for you, rest assured we're likely the most experienced industry professionals to successfully coach and produced voice talent remotely, considering we've been doing so for nearly 20 years now.
If you have a reliable computer, stable Internet, and a quiet place to work… working with us is as close as clicking a link once you've scheduled with us!
We look forward to working with you, while protecting your health and well-being during this unprecedented period in our collective history.
Warmest wishes,
Kate & Jeff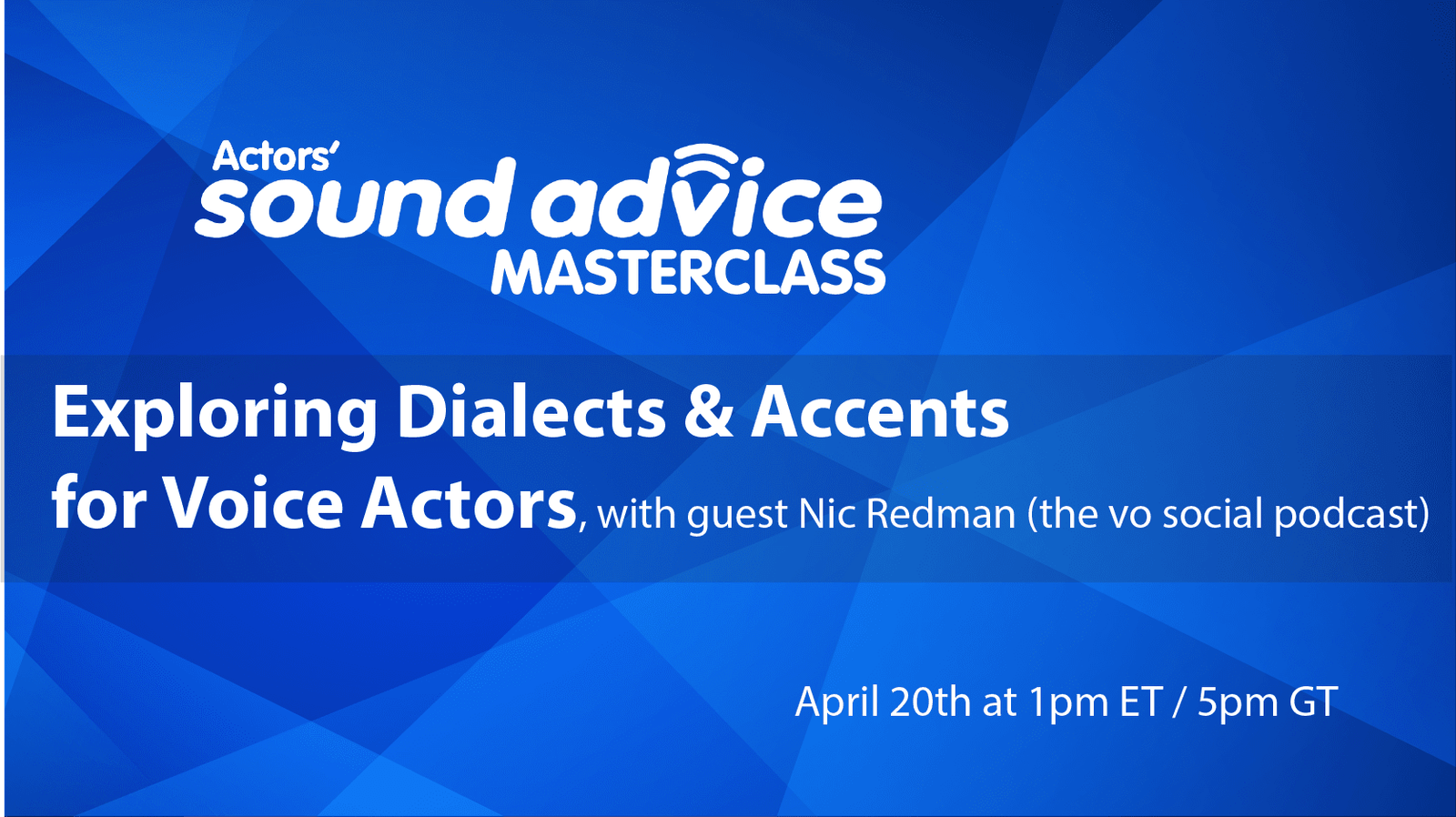 Monday, April 20th, 2020,
2:00 PM – 3:30 PM EDT via Zoom!
Are accents something you always wanted to delve into, but never had any idea where to start?
Could you use a little help sharpening your dialectical skills should the need arise?
During this Webinar we'll cover:
• The difference (if any) between an accent and a dialect
• Nic's "Accent Breakdown Guide"
• Nic's TOP 5 TIPS to develop dialects
• Our Exclusive Accent Exploration Process
• And a great deal more!
You won't find techniques and tools of the trade more reliable or as well vetted as you'll find during this Webinar, unless you coach privately with us!
* If you aren't able to participate live, this Webinar will be recorded for future benefits.

New to voiceover?
Working VO talent?
We identify your strengths & obstacles, along with educating you on how to create a successful VO career.
Our exclusive approach benefits every skill level. 
Every coaching session is private and custom-tailored to your specific goals.
Our demos define who you are, what you do best, and the sort of work you want to book most.
Exceptional Voice Actor Training & Demo Production
Everything we do is private & one-on-one!

We can work with you from nearly anywhere in the world, regardless of your location.
I want to say your instruction from start to infinity is superb. When I say infinity I mean even after 4 years you are still there for me when I have a question and still learning from you. I decided to train with you guys even though I am in New York...just thought Sound Advice had the most thorough training that I researched...from studio etiquette to how to break down the copy. So I flew from NY to Chicago to train and record my demo. It has paid off in spades. I followed your "how to get an agent" and got a NYC union agent in less then 3 minutes! True story! Since that time I have become a member of SAG and have booked jobs with Microsoft, American Express, Verizon Fios, Luxaire, Bank Midwest among others! It has been a whirlwind 4 years but have you to thank...just about everything you say does happen and does work in the VO world. Trust me it's not easy and a lot of hard work has gone into this…but so worth it...so once again many thanks!
Joel Konya - NYC
Here is a true example of where my voice was selected for a project, and I never even auditioned. They picked my voice, solely based on my Sound Advice Commercial demo. How amazing! I have been landing new work recently and they always comment on my demos that you produced. Thanks again for showing that if you stick to it, you will see results. Perseverance pays. 🙂
Kimberley Reid, Dallas, TX
The whole process from beginning to end was enjoyable. The coaching that Jeff provided was invaluable and exactly what I needed. I felt like he was also pacing our time together to meet me where my skill set was, not just delivering cookie cutter coaching. It was an easy decision to move into demo production with you guys.
Deanna Moffitt, Chicago, IL
I have had a great experience with Sound Advice. I've studied Kate's Encyclopedia, taken lessons/coaching, and they produced my commercial and narrative demos. For me, it all is worth the investment. Jeff Finney is whom I've worked with, mostly. He is a great guy – talented, sincere, and good feedback. His directing and coaching really made my demo performance reach a higher level. I've also had a few coaching sessions with Kate via Skype. She is great, too. Very direct and helpful coaching. As you can tell, I'm a fan.
Rich Cunningham, Indianapolis, IN