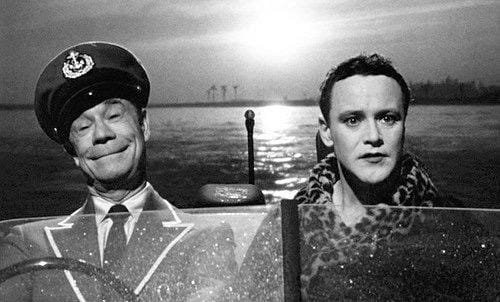 I'm such a classic movie fan my father used say, "I don't know why you have a color television, you never watch anything in color!" (Of course, that statement alone dates me older than I actually am, even though of late I feel myself aging with every passing moment.)
Whether old movies are your thing or not, there's so much added value to your imagination, character study and expanding your frame of reference when it comes to your performance as a voice actor from viewing even a couple of these extraordinary classics. Besides they're all really, really great, not to be missed movies!
I left out lots of well-known classic movies on purpose with the intent to broaden your palate.
So, without further ado: be sure to FEED YOUR READ with a few, or ALL, of these inspiring movies compiled to inspire, entertain and, ideally, endear you to a handful of my longtime favorites. (Rest easy. They aren't all in black and white, Dad!)
1. You Can't Take It With You (1938) Frank Capra directs this extraordinary movie that defines our collective values as Americans still almost a hundred years later. The endearing ensemble cast is lead by Lionel Barrymore, Jean Arthur and Jimmy Stewart. Proving once again, the more things change, the more they stay the same.
2. Some Like It Hot (1959) This William Wilder comedy stars Marilyn Monroe, Tony Curtis and Jack Lemmon running from the mob 1920's style… what could be better?
3. It Happened One Night (1934) Capra's first Academy Award winner starring Clark Gable. I dare you not to fall in love watching this sweet film.
4. Singing In The Rain (1952) Gene Kelly, Debbie Reynolds and Donald O'Connor dance us through the transition from silent film to talkies. This is the ultimate 'feel good' movie!
5. 12 Angry Men (1957) Henry Fonda and Lee J. Cobb lead this prestigious cast that weighs subjectivity against objectivity. Good stuff!
6. Bringing Up Baby (1938) Cary Grant and Katharine Hepburn define what came to be known as Howard Hawk's quintessential 'screwball comedy'. Hilarious!
7. Whatever Happened to Baby Jane? (1962) Bette Davis and Joan Crawford couldn't hide their disdain for each other off-screen and it pays off in this thriller that holds up against time 60 years later!
8. Harold and Maude (1971) This cult-classic, dark comedy stars Bud Cort and Ruth Gordon. It's one of my all-time favorite films with the added bonus of a remarkable soundtrack by Cat Stevens.
9. The Sting (1973) Paul Newman and Robert Redford romanticize Chicago in the 1930's as they grift their way through this incredible tale.
10. Adam's Rib (1949) Katharine Hepburn and Spencer Tracy argue the battle of the sexes decades before feminism became second nature for most of us.
11. The World According to Garp (1982) Robin Williams graduated from sitcoms to feature film in this extraordinary John Irving literary classic directed by George Roy Hill. 'Nuf said! Roll film!
12. Mr. Deed's Goes to Town (1936) Another Capra hit! Gary Cooper and Jean Arthur will surprise you at every turn in this movie!
13. Gypsy (1962) Rosalind Russell and Natalie Wood entertain you. LET THEM! You won't be disappointed.
14. The Awful Truth (1937) Cary Grant and Irene Dunn define what a romantic comedy should make you feel. And that ain't bad!
15. Sergeant York (1941) Gary Cooper recreates what decorated WWI hero, Alvin York, experienced as a conscientious objector. Great story!
16. Young Frankenstein (1974) Mel Brook's masterpiece and ode to the old school horror movies he grew up watching.
17. Silkwood (1983) Mike Nichol's directs Meryl Streep, Kurt Russell and Cher in this based on a true story thriller.
18. The Grapes of Wrath (1940) Henry Fonda stars in this Steinbeck classic following an impoverished family's trek across the country during the Depression to the 'Land of Milk and Honey', as the expression goes.
19. Top Hat (1935) Fred Astaire and Ginger Rogers dance their worries away… and take you with them every… single… time!
20. Captains' Courageous (1937) Directed by Victor (Gone with the Wind, Wizard of Oz) Fleming, starring Spencer Tracy, Lionel Barrymore and Freddie Bartholomew. Oscars all around! Best rainy day movie… EVER!
21. Slaughterhouse-Five (1972) George Roy Hill directs this Kurt Vonnegut story. Funny, freaky and incredible!
22. The Man Who Would Be King (1975) Sean Connery, Michael Caine and Christopher Plummer offer up the ultimate 'buddy picture'. Directed by John Huston and written by Rudyard Kipling. Have at it!
23. Cannery Row (1982) John Huston narrates this Steinbeck story. This is a funny, endearing and incredibly entertaining film starring Nick Nolte and Debra Winger.
24. The Conversation (1974) Nominated for the best picture Oscar the same year as The Godfather, and directed by Francis Ford Coppola as well! Gene Hackman, John (Fredo Corleone) Cazale and Robert Duvall. This thriller doesn't disappoint.
25. The Black Stallion (1979) This surprising picture takes you on an epic adventure that's both introspective and triumphant in scope. See for yourself!
Enjoy.
Copyright © 2022 by Kate McClanaghan All Rights Reserved.