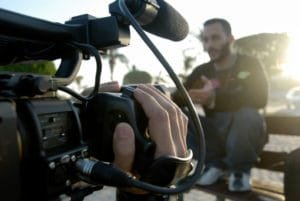 There's a common assumption in the talent industry that can easily trip an actor up. It's the idea that you must dramatically alter your approach to act for voiceover, and that there are some deeply guarded secrets to this medium that no one will divulge to you upon pain of death.
Well, it may be liberating to learn there's little if any real difference in acting for the camera compared to acting for voiceover. Case in point, here are six similarities between the two that you might not have considered:
Both are recorded media, which require multiple takes.
Both utilize a technical device to capture your performance. Mastering mic technique is quite possibly the greatest difference you'll likely encounter when transferring your skills from one medium to another. Yet, even then, ensuring your performance registers can be considered the equivalent to remaining in frame on camera, or not upstaging yourself on stage. If you're too far off-mic or are out of frame on-camera, your best efforts and your best performance will be wasted.
Acting for the camera and voiceover both require point-of-view, skill, and an interest factor that compels an audience. In other words, you're expected to perform as anactor, rather than a robot—regardless of the medium. We're paid to have a pulse! In fact, all the same demands required in any other performance setting is required of you as a voice talent.
If you move toward a camera, you blur and go out of focus, and if you crowd a mic, your performance distorts as well. Both require you remain fairly static in front of the either the mic or camera, rather than moving around all that much.
Even type matters as much in voiceover as it does with on-camera work. Being yourself will yield the best results rather than trying to come across as something you're not.
And, here's an extraordinary tip that applies to both: Place your performance just beyond the mic or camera, rather than between you and the mic or camera. This will allow you to include the audience within your sphere of influence, which includes your thoughts, your actions, and the story you're telling.
Certainly every dedicated actor must become familiar with and master multiple forms of media if you hope to be a value to any gig you might land. And while there are obvious differences between these two forms, it's my hope that keeping in mind the similarities will help to make your job a little easier.
Seems actor Kevin Spacey has the right idea. When asked if he changes his approach when acting for stage compared to film, he once told James Lipton on "Inside The Actors' Studio," "No. Acting is acting is acting." This from an actor known for narrating so many of his most-beloved performances: "The Usual Suspects," "American Beauty," and even his most current success, "House of Cards," as well as voicing commercial campaigns for Microsoft and Honda.
Food for thought.
Copyright © 2015 by Kate McClanaghan, Inc. All Rights Reserved.
This Article Originally Featured In