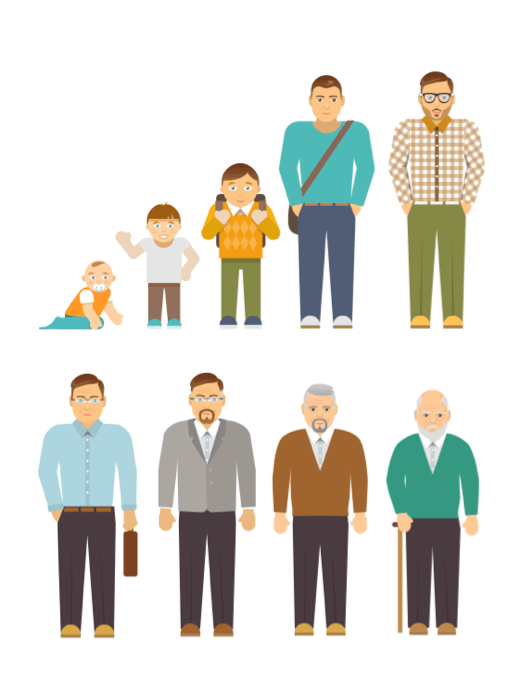 When it comes to voiceover, how important is it for them to see what you look like? There's some debate as to whether you should (or shouldn't) include your headshot on your voiceover demos and web page. Personally, I prefer to listen with my ears, not my eyes and imagine what you look like. There's a great deal of power in keeping your listeners' imagination engaged in this way.
Besides, as in every business, how we're perceived often comes down to you being either too young or too old. Certainly every aspect of the entertainment industry is riddled with subjectivity and preconceived notions, and age is no exception. In fact, it's one of the key defining elements used when casting. Yet, age may even surpass gender and race as either a selling point or utter exclusion. The fact is your gender and race won't likely change over the course of your career.
As a suggestion: when it comes to your social media and email signature, instead of incorporating a literal photograph of your self, use a well thought-out version of your logo placed in the appropriate context. That should suffice very nicely. But if you currently have a picture, be sure it's professional, tasteful, isn't a complete deal killer and doesn't entirely show your hand age-wise (too young or too old) but effectively positions you within a range that affords you the greatest number of auditions. Don't overlook the importance of how you're telling the world your specific branding story. You're advertising to advertisers. Or at least people who fancy themselves as such.
Considering age will inevitably influence your type and, as luck would have it, your ability to land work, especially if the casting assistant is 22 years old and considers you 'Grampa' material based on the fact that you're at least 42 years old (and look it from your headshot).
Whether you're honestly appropriate for the voiceover or not is relative, but it's ultimately contingent on the assistant's perception. They're typically the initial gatekeeper, so it's a potential obstacle not to be overlooked.
The difference is you have the opportunity to control whether you're seen or not as a voice talent, and therefore bypass the inevitable age-stigma. You either sound appropriate for the production… or you don't. This is in part why we have voiceover demos: to demonstrate what we do best.
Nevertheless nothing remains the same. The question is: are you evolving further into your most bookable age range, or out of it? Clinging to former glory rather than embracing the next chapter is where so many talent fall down. Actors aren't alone in this. This is a common misstep of the average small business owner as well: When to reassess, transition and thrive with a revised self-awareness of who you are and how you're perceived is necessary if you expect to go the distance in this or any industry. (But then this is in part why we continue to train throughout our careers.)
Voice actors in their 40s tend to sound 10 – 15 years younger than they actually are. The same is typically true for those in their 50s and 60s, for that matter. Age usually becomes an issue when the talent aren't up-to-date on current industry demands or protocols. Professional nomenclature that should be second nature can put nervous clients at ease. And they are nervous, I can assure you. Their reputations are on the line. How well you perform is a direct reflection on them. After all, they've been entrusted with the company's reputation. It's branding. All that said most of these people hiring you are likely 20-30 years younger than you. And while those in their mid-20s to early-30s might be on trend and progressive in managing their careers, they'll hopefully be finding themselves playing teenagers at one audition and young moms chasing toddlers in the next. All of it takes a certain coming to grips with how they're perceived, or hope to be seen. Those eager 20-30 year olds with deep, resonant voices—who sound far more mature than their worldly experience can support, may discover they'll have to grow into their most employable type. We all earn our armor, after all. But time will tell. Time and tenacity.
The single thing you can count on is change. You may as well embrace it. After all, you become the effect of that which you resist. And if you resist, you may miss out on some remarkable opportunities that time and training has been grooming you for all along… regardless of how old, or young, you may be. Inside. And out.
This Article Originally Featured In



Copyright © 2021 by Kate McClanaghan. All Rights Reserved.