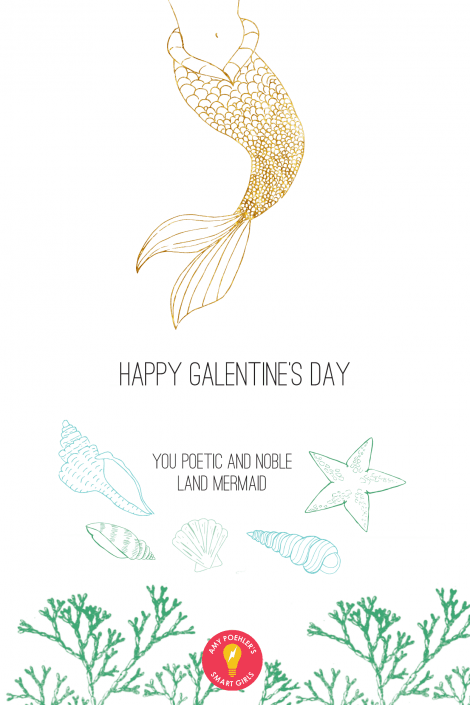 Amy Poehler originated Galentine's Day back in 2010 on an episode of Parks & Recreation. The idea was to define the female experience while celebrating your best women friends on the 13th of February and give those friendships their due.
So, in our continued attempt to offer creative inspiration and expand your options beyond the run-o-the-mill, cliché chick flicks, the following selections offer far more than the classic "buddy picture" formula with the added benefit of a woman's point of view. These options are not your Mom's "Mama Mia", "Steel Magnolias" or "Sex in the City", not that those aren't great selections in their own right.
This list is the good stuff. Consider it the unabridged, top shelf, off the beaten path, unexpected, yet incredibly relatable content. So, if you've been craving some insightful, extremely entertaining and enlightening TV and film, the following were curated especially for you for Galentine's Day! Your significant Valentine, if you happen to have one, will likely find them intriguing as well. #ChicksRule
Enjoy yourself… 
1. 9 to 5 (Apple TV) Film. Jane Fonda, Lily Tomlin and Dolly Parton show us how to run the show so EVERYBODY wins!
2. Adam's Rib (HBO Max) Film. Katharine Hepburn at her best!
3. Agnes Browne (YouTube) Film. Anjelica Huston at her Irish best!
4. Alien (HULU) Film. Sigourney Weaver leads this classic.
5. All About Eve (YouTube) Film. Bette Davis shows us what's what.
6. American Horror Story (Apple TV) 10 seasons and still going strong. Kathy Bates, Jessica Lange, Sarah Paulson, Lady Gaga, Billie Lourd and more!
7. Auntie Mame (Apple TV) Film. Rosalind Russell blows you're mind.
8. Bend It Like Beckham (HULU) Film. Parminder Nagra and Keira Knightley play ball! 
9. Better Things (HULU) Series. Pam Adlon is the boss with 3 incredible daughters.
10. Big Little Lies (HULU) Limited series. Reese Witherspoon, Nicole Kidman, Laura Dern, Zoe Kravitz, Shailene Woodley and Meryl Streep rule Monterey.
11. Big Love (HBO) This incredible series delivers an extraordinary cast with the likes of Jeanne Triplehorn, Ginnifer Goodwin, Chloe Sevigny, Ellen Burstyn.
12. Booksmart (HULU) Film. Kaitlyn Dever and Beanie Feldstein lead this come of age story directed by Olivia Wilde.
13. Bridesmaids (HULU) Film. Kristen Wiig, Maya Rudolph, Rose Byrne, Melissa McCarthy star.
14. Bring It On (Netflix) Film. Kirsten Dunst, Gabrielle Union, Eliza Dushku.
15. Broad City (HULU) Series. Ilana Glazer and Abbi Jacobson were born to crack you up.
16. Buffy The Vampire Slayer 
17. Cable Girls (Las Chicas Del Cable) (Netflix) Taking place in the 1920s, four women from different backgrounds are hired as telephone operators in Madrid. A fantastically feminist Spanish drama. 
18. Calendar Girls (YouTube) Helen Mirren, Julie Walters lead this talented cast.
19. Call the Midwife (Netflix) British drama series.
20. Casa de Los Babys (Amazon Prime) John Sayles directs Maggie Gyllenhaal, Lili Taylor, Mary Steenburgen, Marcia Gay Harden, Rita Moreno and Daryl Hannah. Intense.
21. Claws (HULU) Niecy Nash, Judy Reyes, Jenn Lyon sharpen their nails in this dram-edy series.
22. Clueless (HULU) Alicia Silverstone comes of age in LA in the '90's in this teen classic. (As if.)
23. The Color Purple (HULU/HBO) Whoopi Goldberg, Oprah, Danny Glover star in this epic classic.
24. Crazy Ex-girlfriend (Netflix) Series. Rachel Bloom stars in this romantic, comedy-drama series.
25. The Crown (Netflix) How do you spell 'Matriarch'?
26. Dancing at Lughnasa (Amazon Prime) Meryl Streep stars in this story about five unmarried sisters in rural Ireland in the 1930's.
27. Dead to Me (Netflix) Christina Applegate, Linda Cardelini and James Marsden star in this amazing, comedic drama series.
28. Derry Girls (Netflix) Coming of age series set in Northern Ireland during the 1990's.
29. Dreamgirls (HULU/HBO) Beyonce' Knowles, Jennifer Hudson, Jamie Foxx and Eddie Murphy star in this rags-to-riches film based on Motown's Supremes. Let the good times roll!
30. Encanto (Disney) We all have special gifts… everyone but Mirabel. The stuff dreams are made of!
31. Erin Brockovich (Peacock) Julia Roberts Oscar winning portrayal based on the true story of the advocate of the same name.
32. Euphoria (HBO) Zendaya heads this talented cast of friends and other strangers.
33. Everything Everywhere All At Once Michelle Yeoh, Jamie Lee Curtis and Stephanie Hsu star in this mind-blowing tale of magical realism. 
34. The Farewell (Prime Video) Imagine throwing a fake wedding and the only person that doesn't know only has a few weeks to live: the family's beloved Matriarch. Awkwafina stars.
35. The Favorite (2018) Film. Starring Olivia Colman, Emma Stone and Rachel Weisz in this unusual period dramedy.
36. The Flight Attendant (HBO Max) Kaley Cuoco & Rosie Perez lead this jet set party girl whodunnit.
37. Feud: Bette and Joan (AppleTV+) Jessica Lange and Susan Sarandon star in this docuseries depicts the infamous rivalry between Bette Davis and Joan Crawford.
38. Fleabag (Prime Video) Phoebe Waller-Bridge proves serious subjects can be approached with a comedic heart.
39. Frida (HULU/HBO) Salma Hayek embodies the role of Frida Kahlo, directed by Julie Taymor with extraordinary artistry.
40. Fried Green Tomatoes (Prime Video) Kathy Bates, Jessica Tandy, Cicely Tyson, Mary-Louise Parker and Mary Stuart Masterson star. 'Nuf said.
41. Frozen (Disney) The animated musical film of two sisters on the frozen tundra. (Let it go.)
42. Garfunkel and Oates (YouTube) This comedic duo star in this single season show consisting of actresses Riki Lindhome and Kate Micucci. Hilarious!
43. Gentleman Jack (HULU/HBO) Set in 1832 England, based on a true story of steel-willed, Anne Lister, who fought to maintain her ancestral home. They say it's a man's world but you won't know that by her!
44. Ghost World (Philo) Thora Birch and Scarlett Johansson star in this film of college aged, awkward hipsters.
45. Gilmore Girls (Netflix) The beloved series that features Lauren Graham, Alexis Bledel and gave Melissa McCarthy her start.
46. A Girl Walks Home Alone at Night (Amazon Prime) This thriller set in an Iranian ghost-town is full of surprises.
47 Girls Trip (HULU) Remember how loved, supported and understood your best friends from college made you feel? So does Tiffany Haddish, Regina Hall, Queen Latifah and Jada Pinkett Smith.
48. GLOW (Netflix) Comedy gold is mined in this unexpected series featuring Alison Brie, Betty Gilpin, Marc Maron and a slew of astonishing female characters. Not to be missed!
49. The Good Fight (Amazon Prime) Five seasons of fist to cuffs with Christine Baranski, Audra McDonald. Tour de force stuff here!
50. Good Girls (Netflix) Christina Hendricks, Retta and Mae Whitman are not only good people, turns out they're pretty good at an awful lot of things.  
51. The Good Nurse (Netflix) Jessica Chastain, Kim Dickens and Eddie Redmayne star.
52. The Good Wife (Amazon Prime) Juliana Margulies leads this astonishing cast. 
53. Grace and Frankie (Netflix) Jane Fonda and Lily Tomlin are the yin to each other's yang. Not to be missed!
54. Gypsy (TCM) Rosalind Russell and Natalie Wood entertain you. They even make you smile.
55. Hacks (HBO Max) Jean Smart and Hannah Einbinder join forces, and not just for the laughs but the long haul! GREAT show. Generational feminism proves Women actually ARE and have always been FUNNY! (Regardless what the little boys club might claim.)
56. The Handmaid's Tale (HULU) Elizabeth Moss defines what grit really means. (And you thought you had problems.)
57. The Help (HULU/HBO) Viola Davis, Octavia Spencer, Jessica Chastain and Emma Stone help each other out when no one else would.
58. Hidden Figures (HULU) Taraji P. Henson, Octavia Spencer, Janelle Monae are the best kept secret sauce as to how America won the Space Race.
59. His Girl Friday (Amazon Prime) Cary Grant's better half is Rosalind Russell. This film proves it.
60. Howard's End (Netflix) Emma Thompson, Helena Bonham-Carter star in this beautiful Merchant-Ivory film.
61. How to Get Away with Murder (Netflix) Viola Davis takes you to school. Six seasons that just don't quit.
62. The Hunger Games (HULU) Jennifer Lawrence defines empowerment.
63. Hush, Hush, Sweet Charlotte (YouTube) Bette Davis, Olivia de Haviland, Agnes Moorhead star in this thriller.
64. I'm No Angel (TCM) Mae West cuts the path to (female) independence!
65. Inventing Anna (Netflix) Shonda Rhimes rules! As each episode of this remarkable limited series states, "This whole story is completely true. Except for the parts that are totally made up."
66. Iris (Amazon Prime) 88-year-old style icon, Iris Apfel, is featured in this extraordinary documentary. She defines how to live a truly creative life!
67. The Iron Lady (HBO) Merle Streep embodies Margaret Thatcher. They say it's a man's world, but you won't know that by her.
68. Jessica Jones (Netflix)
69. Joy (HULU) Jennifer Lawrence, Bradley Cooper, DeNiro tell the rise and fall and rise again of the durable Joy Mangano.
70. The Joy Luck Club (Prime Video) This modern day classic chronicles four sets of Chinese mothers and daughters and their life's journey from Amy Tan's bestseller.
71. Julia (AppleTV+) This Oscar-winning drama, starring Jane Fonda and Vanessa Redgrave is based on the writing of Lillian Hellman, depicting the relationship between two friends and its unexpected consequences.  
72. Juno (HULU)
73. Killing Eve  
74. Kill Bill Vol 1 and Vol 2 
75. The L Word  
76. Lady Bird  
77. Legally Blonde 
78. Little Fires Everywhere  
79. Little Miss Sunshine  
80. Little Women (1936 – 2019) They're all good. Pick one.  
81. Love & Basketball  
82. Madame Secretary  
83. Mare of Eastown  
84. The Marvelous Mrs. Maisel  
85. The Mary Tyler Moore Show  
86. Mrs. America (HULU) This miniseries captures the Women's movement in America from the early 1960's till about 1980. Cate Blanchette, Uzo Aduba, Rose Byrne, Elizabeth Banks star. Truth is stranger than fiction. 
87. Mean Girls  
88. Men Don't Leave  
89. The Miracle Worker  
90. Miss Pettigrew Lives for a Day  
91. The Morning Show (AppleTV+) Series.  
92. The Nevers (HBO) Badass, steampunk women with "special skills" 
93. Nora From Queens  
94. Norma Rae (1979) 
95. Nuclear Family (2021) This 3-part, HBO documentary series chronicles a lesbian couple's experience after their sperm donor chose to claim paternity. 
96. On the Verge (Netflix) Series. Julie Delpy rules! She's the artist behind this amazing series. Wanna know what the best of women friends is *really* like? It's in here in aces. What honestly cracks women up? Like I said, it's delivered here, pitch perfect. Not to be overlooked or missed!  
97. Orange is the New Black  
98. Orphan Black (BBC America/AMC)  
99. Parched  
100. Parks and Recreation  
101. Permanent (Netflix) 
102. Pretty Little Liars  
103. Promising Young Woman 
104. Queens 
105. Queen Bees (2021) 
106. The Queen's Gambit 
107. Queen of the South 
108. Real Women Have Curves  
109. Roar (AppleTV) You've GOT to see this! Simply amazing! 
110. Rough Night  
111. Russian Doll  
112. Self-Made (Netflix) Octavia Spencer, Tiffany Haddish star. 
113. Sense and Sensibility (HULU) Film. This is one of my all-time favorite film and one of many of Emma Thompson's triumphs.  
114. Silence of the Lambs  
115. Silkwood  
116. The Sisterhood of the Traveling Pants 
117. Sophie's Choice  
118. Stage Door 
119. Suffragette
120. Tar
121. Terms of Endearment  
122. That Girl 
123. Thelma and Louise 
124. The Tinder Swindler  
125. Thirteen  
126. Tortilla Soup  
127. Two Dope Queens 
128. Unbreakable Kimmy Schmidt 
129. An Unmarried Woman  
130. The Unsinkable Molly Brown 
131. Veronica Mars 
132. The Virgin Suicides 
133. Waiting to Exhale  
134. Waitress  
135. Watchmen (HBO) Series. Regina King rules.  
136. Weeds  
137. The Whales of August (1987) Bette Davis, Lillian Gish, Vincent Price and Ann Southern star in this late summer tale of life, love and friendship.  
138. Whatever Happened to Baby Jane  
139. Wednesday (Netflix) The youngest Addam's family member still has teeth. 
140. Wild 
141. Wit 
142. The Woman King  
143. The Women 
144. Women Talking  
145. Wonder Woman 
146. Working Girl  
147. Workin' Moms  
148. Whip It  
149. Why Women Kill (Prime Video)  
150. Younger  

Copyright © 2023 by Kate McClanaghan. All Rights Reserved.