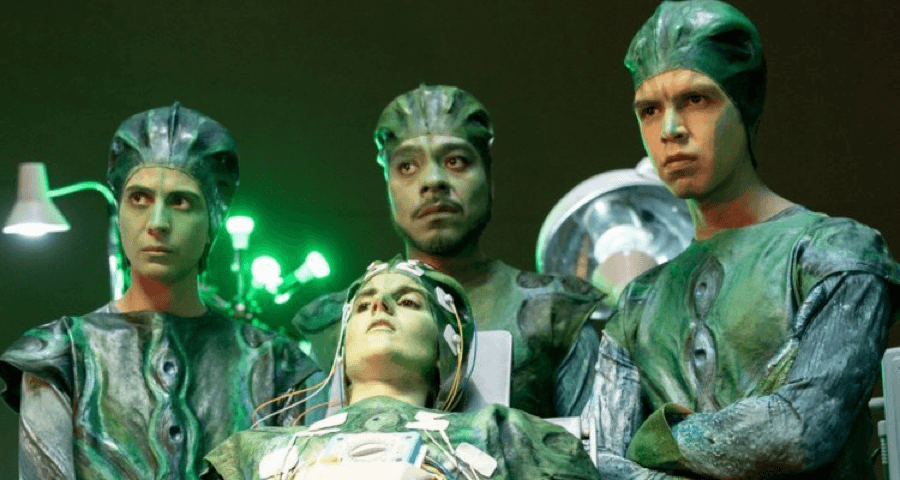 All caught up watching that last series you binged only to be left hungry for more? Lucky us, there's never been such an array of amazing tellie to take in! After all, wherever we direct our thoughts directly impacts our imagination and ultimately, our performance as voice actors.
Just as writers need to be avid readers to improve their literary prowess, actors of every stripe need to study a variety of recorded media to impact and elevate our imaginations and storytelling. To that end, here are few suggestions you might not have had the pleasure of viewing yet!
1. Inventing Anna (Netflix)* Not to be missed, clever, modern suspense. Truth is stranger than fiction.
2. Yellowstone (Paramount+)* Gritty, sexy Western drama. I'll have the bison burger, please. Delish. (Who knew?)
3. Hacks (HBO Max)* Comedy This unconventional mentor-mentee relationship spans generational divides and is uniquely original in every way!
4. Atlanta (FX)* Comedy-Drama. Danny Glover stars in this seemingly otherworldly version of the Atlanta rap scene, that examines racism, whiteness, existentialism and modern African-American culture through Afro-Surrealism. This is some good juju, my friend.
5. The Handmaid's Tale (HULU)* Drama, with a capital D, not to be missed! (Consider it an advanced acting class taught by Elizabeth Moss!)
6. Gutsy (AppleTV) Wit with pathos. Chelsea and Hillary Clinton host this super smart docu-series.
7. Severance (AppleTV+) Dramadey. If the Twilight Zone and Party Down had a baby… maybe that's not the best description. But it's close! Surreal depiction of leaving work at work and your personal life "at the door".
8. Ted Lasso (AppleTV)* Comedy, comradery and soccer! "Football is life!"
9. The Marvelous Mrs. Maisel (Prime)* Top notch comedic sparing among rich, remarkable characters the likes of which are rarely seen. Not to be missed!
10. Pam & Tommy (Hulu) Astounding performances chronicling the dawning power of the Internet 25 yrs ago. Comedy/drama
11. Ozark (Netflix)* Intense suspenseful drama that darkly twists and turns through back woods. Extraordinary!
12. Succession (HBO)* This dark drama, loosely based on Rupert Murdoch's corrupt media empire, depicting excessive wealth in an unequalled, unbelievable way.
13. Only Murders in the Building (Hulu) Comedy. The murders are the McGuffins, the tenants are the suspects. Let the games begin!
14. The Offer (Paramount+)* Drama, with a healthy sense of humor. Who knew the making of The Godfather was this juicy! LOVED every second of it!
15. Barry (HBO)* Comedy/drama. We really need to give Vets proper jobs after they serve, as this show illustrates.
16. Euphoria (HBO)* Drama. To coin a phrase, "KIDS today!"
17. Invasion (AppleTV)* Thriller. This is the creepiest, most realistic, and original sci-fi thriller you'll find anywhere. It's flat out awesome!
18. Mare of Easttown (HULU) Drama. Tour de force performances from a cast of heavyweights led by Kate Winslet. Great stuff!
19. Big Little Lies (HBO Max) Drama. Reese Witherspoon, Nicole Kidman, Laura Dern, Meryl Streep, Adam Scott. I think you get the idea.
20. The White Lotus (HBO) Comedic drama. Gosh, I guess the excessively wealthy have bigger, more important problems than the rest of us bums. They certainly seem to think so!
21. The Nevers (HBO) Dramatic fantasy. If steam-punk was set at Hogwarts, you'd have The Nevers!
22. Scenes from a Marriage (HBO)* Drama. Beautifully crafted performances delicately served up by Oscar Issac and Jessica Chastain. You fall in love and root for both of them.
23. Better Call Saul (AMC)* Dramedy. This masterpiece prequel was masterfully crafted by Vince Gilligan, following what lead up to the Breaking Bad series.
24. Yellowjackets (Showtime) Drama. There's no bonds quite like the friendships we forge when we're young… and playing sports… and after surviving a plane crash… and we have deep dark secrets to keep. Yep, just like that.
25. Winning Time: The Rise of the Lakers Dynasty (HBO) Comedy drama. The history of LA basketball in the 1980's that you likely never knew. Amazing!
26. Killing Eve (AMC)* Comedy-Drama Thriller. This series is extraordinary on every level! Sandra Oh, Jodie Comer and Fiona Shaw. Not to be missed!
27. The Bear (Hulu)* Dramatic comedy. Teamwork makes the dream work! Besides great story, this series serves up Chicago-style 'food porn'. Arrive hungry!
28. Stranger Things (Netflix) Horror-Thriller. These kids are growing up faster than we ever did. Hmm, wonder why? Creepy fun that just won't quit!
29. Russian Doll (Netflix) Dramedy. Time does funny things when you're busy making plans. No, wait… how's that go again?
30. The Boys (Amazon Prime) Drama. Corrupt Superheroes don't stand a chance with these guys around.
31. Abbott Elementary (ABC) Comedy with pathos. This extraordinary series just stole the show at the Emmys and took home it's share of accolades and honors! And they were the new kids on the block!
32. What We Do I the Shadows (HULU) Comedy* This hilarious series is a documentary-style look into the daily (or rather, nightly) lives of four vampires who've "lived" together for hundreds of years in Staten Island. You're welcome!
33. The Lincoln Lawyer (Netflix) Drama. Before we get ahead of ourselves, this attorney practices law from the trunk of his Lincoln Continental. You know, as one would.
34. The Flight Attendant (HBO Max) Dark Comedy. Must be tough being a flight attendant today, especially waking up in a new town, in a new bed, with a dead body and you can't remember how you got there!
35. Insecure (HBO) Comedy-drama. Issa Rae delivers in this series centered around these modern-African American best friends who wrestle with their personal insecurities as they cope with an endless series of uncomfortable everyday experiences.
36. Dopesick (HULU)* Drama. Michael Keaton leads this extraordinary cast chronicling the opioid (and homeless) crisis from its inception from Purdue-Pharma and the Sackler family who owned and inevitably escaped justice from deliberately deceiving the public as to the true extent of the addictive nature of these drugs. Not to be missed!
37. Loki (Disney+) Action-Adventure. Tom Hiddleston is the title role, the God of Mischief, who steps out of his brother's shadow to embark on an adventure that takes place after the events of "Avengers: Endgame."
38. Our Flag Means Death (HBO Max) Comedy * On the order of What We Do in the Shadows, and produced by the same comedic genius, follows the exploits of a pampered aristocrat and his crew of lovable misfits, as they become pirates in the early 18th century.
39. The Morning Show (AppleTV) Drama. A candid drama, with an all-star cast, that depicts the modern workplace through the lens of the people who help wake America up, pulling back the curtain on early morning TV.
40. Los Espookys (HBO) Comedy* This primarily Spanish-language comedy (with English subtitles), follows the adventures of Renaldo, a horror and gore enthusiast who forms a unique business that conjures thrills and chills for a variety of clients. Absolutely hilarious!
* Every one of these shows are exceptional, but the ones I starred are a few of my all-time favorite, not-to-be-missed suggestions. Enjoy!
Copyright © 2022 by Kate McClanaghan. All Rights Reserved.