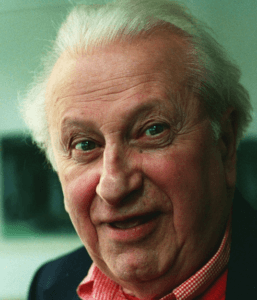 We lost Studs Terkel this past week.
He was ninety-some-odd years old, a Chicago icon and a national treasure. (No kidding. He literally was.)
I met him at a bus stop many years ago and he had me follow him to his office off Michigan Avenue, only to load me down with about 15 paperbacks he insisted I read right away.
I told him of my love of radio theatre and how I wanted to revive the medium.
He leaned in and told me, low and sincere, "I don't know many people who can say this, but…during the '30's, I was gangster in Chicago… on the RADIO!"
I was immediately enamored with him.
He came to see me in shows. We'd sip beers and chat about everyday things at the Red Lion Pub on Lincoln Avenue across from the Biograph Theatre where they shot Dillinger.
He even introduced me to Jean Sheppard once, the fellow who wrote and narrated the now-classic, "A Christmas Story".
These two together were priceless. There was an easy rapport between them and about them. They never made you feel like you were intruding. The more the merrier.
Jean's been gone for many years now.
But Studs always seemed timeless to me, somehow, like the three-story graystones and row houses that have littered Chicago since the place was renovated some ten years or so after the fire. He seemed ageless.
He was a kid—like me. He wasn't older or younger… he just was. He wasn't famous, even though he had won a Pulitzer and had a listening audience well into the millions for decades on end.
He just loved people and a great story.
And much like one of the characters in his novels, he was simply one of us.
He lead a long, remarkable life.
All of us should be so lucky, so kind… and so very, very alive!
May flights of angels greet you, Studs.
You shall be missed.